LOCATION :
20 000 sqm and a 100 meter long oceanside
A beach that stretches as far as your eyes can see
An ecosystem where earth and sea share the same space
3 hours from Bali (1.5 by flight and 1.5 by car)
WHY NILA ?

"Nila" means Indigo in Bahasa Indonesia.
There is a strong tradition of IKAT weaving in the area of Melolo. A local specificity is the use of natural indigo dye made from herbs. For this reason, and also because this beautiful colour echoes the blue of the sky and sea, we chose the name "Nila Resort".
OUR OFFER
The rate: one night costs between 250 and 350 US$, with full board options
Our objective: demonstrate that tourism can be compatible with the environment and local tradition. Our SPA services and Yoga classes will help you get rid of all stress. For more adventure, Sumba offers many chances to enjoy mesmerizing landscapes and an atypical culture.
The restaurant: located in the center of the resort, it will serve a fusion cuisine mixing French and Indonesian food cultures. Fresh, locally grown products will help preserve and promote the island's resources
OVERVIEW

14 bungalows designed to offer visitors premium services and maximal comfort
Discover the masterplan: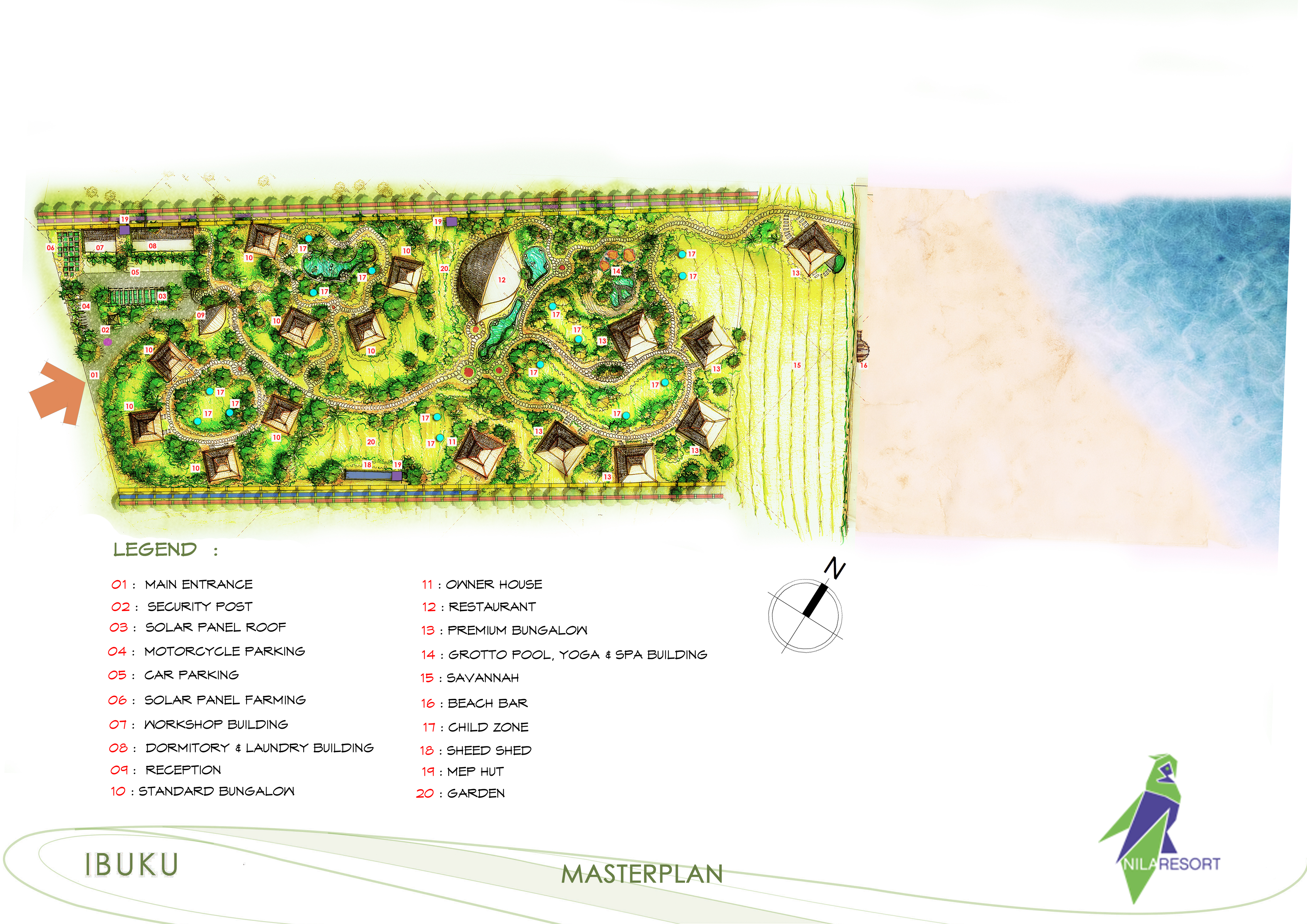 BUILDINGS AND BAMBOO
In order to create low-impact constructions that match the architectural culture of the island, we decided to use bamboo as the primary building material.
The famous Balinese architecture firm IBUKU is working with us on this objective. Their constructions, which combine luxury and sustainability, will give our resort a very unique style.
They also happen to know Sumba inside-out and upside-down which is a great asset.
A LOCAL FOOTHOLD

We do not want local populations to feel left out of their island's development. Thanks to the Sumba Hospitality Foundation, we will be able to rely on locally trained staff members.
We will encourage the Sumbanese to offer complementary activities to tourists such as horseback riding, motorcycle rentals, scuba diving… The Resort is committed in helping them start businesses by providing seed loans, advice and recommendations to guests.
ROAD MAP
Over a year ago : we became owner of the land
October 2017: Indonesian company PT NILA ECO RESORT was incorporated
November 2017: local authorizations have been approved, building permit is being processed
Spring 2018 : launching constructions
Summer 2019 : Nila Resort opens its doors!